FRANdata is here for Franchising
Helping Our Clients Manage, Respond, and Plan for the Impact of the Pandemic
Franchisors
Franchised businesses are expected to outperform independently operated local businesses during the pandemic because of the support from the franchisor and benefits and resources received from the community. Our analysis shows that 26% of franchises have regained their normal level of operations or were minimally affected by the pandemic.
FRANdata remains committed to responding to the needs of our franchisor clients. We are ready to help with understanding where an industry is headed, what regions in the US will be hardest hit (and when) and how franchisors can support their franchisees with access to relief aid. We help support our clients with timely solutions:
Lenders
Uncertainty does not mean accepting risks. At FRANdata we are leveraging more than 30 years experience with analyzing the franchise environment to understand how the current pandemic will affect the performance of each brand in a lender's franchise portfolio. There will be franchises that win and those who will be crushed by the economic weight of the pandemic. Now is the time to test the bench strength of your portfolio and avoid costly surprises.
Suppliers
The world has changed but that does not mean there are no opportunities to explore.  If you are selling into franchising, we can tell you who could be buying your solution right now and who would be next in line as they emerge from the pandemic ready to grow — information that takes time and experience you may not have to uncover on your own.  Franchisors continue to need vendors they can trust to deliver the change they need. But with higher stakes than before and less time or leeway for mistakes, knowing what Franchisors care about before the first call means more success for your company and better chances that your pitch will resonate.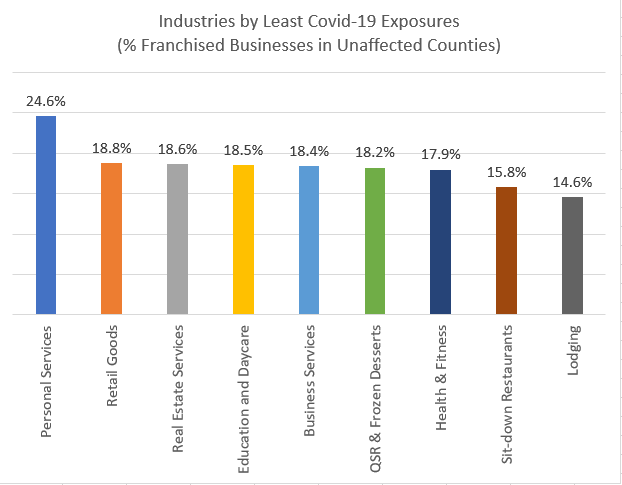 Source: FRANdata
COVID-19's Impact to Franchising

The rapid spread of the COVID-19 pandemic
has dramatically and adversely effected nearly every aspect of American life, especially small business. In past recessions, the franchise business model has proven to be resilient and a leading expansion method coming out of economic downturns. COVID-19 has posed unprecedented challenges to the franchising community, but franchisors and franchisees have responded quickly and carefully to minimize losses.
Currently
94% of Franchises are looking to invest in marketing or
technology within the next 3-6 months in support of their franchisees and the changing business
environment. Most brands are optimistic, with 58% expecting system-wide revenues to increase over the next 90 days with less than half
saying that employment will remain steady for the rest of the year.
Reports and Resources
Franchise Business Impact of COVID-19: Forecasting and Planning for Recovery
FRANdata CEO, Darrell Johnson, speaks with Paul Rocchio from the IFA about the latest insights about the ongoing COVID-19 pandemic.