FRANdata developed and uses the FRANdex  to see how franchising is performing against other indexes like the Dow Jones. With the recent crash of the Dow, we take a look at the impact it's had on franchising.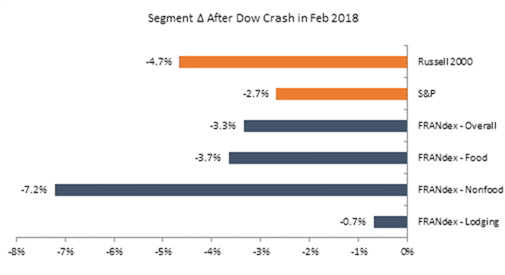 The falling stock market crash had a significant impact on companies in the FRANdex:
Its periodic decline after the Crash was greater than the impact on S&P 500, but the index performed better than Russell 2000
FRANdex was down 3.3% after the Crash, while Russell 2000 was down 4.7%, while S&P 500 was down 2.7% as of the morning of Feb 6th
Lodging brands showed most resilience against the falling stock markets:
Lodging companies' returns in the FRANdex were largely flat; down only by 0.7%
Returns on food and non-food concepts (excluding lodging companies) were down 3.7% and 7.2%, respectively
Read about the Dow Jones plunge here.