People are still eating restaurant food, they're just not doing it at restaurants as much. Delivery apps from DoorDash Inc., Postmates Inc., GrubHub Inc. and UberEats have made ordering in easier, and have changed the way food chains think about their business. The number of food delivery app downloads is up 380% compared with three years ago, with U.S. restaurant delivery sales expected to rise an average of 12% a year to $76 billion in the next four years.[1]
As restaurant delivery goes up, more drywall is coming down. The rise in food delivery and digital ordering in recent years has meant restaurant owners have had to learn quickly about the latest technology. They've also had to learn how to wield a hammer. From added food preparation lines to reconfigurations that expand space for people to stand and wait for takeout orders, joining the digital revolution has required restaurants to make physical changes in their kitchens and dining areas. And industry watchers say it's only the beginning.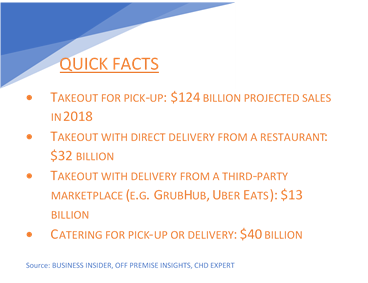 Take the McDonald's for instance. In August this year, the franchisor announced that it would spend close to $6 billion to redesign its American locations. As a part of the upgrade, it is making its franchisees add designated parking spots for curbside pickups made through mobile orders. A similar approach was adopted by Firehouse Subs, as well. In July 2018, the company replaced some of their table and chairs at all of their systemwide locations with shelves where delivery orders can be stacked. About 10 square feet that used to be seating at Firehouse Subs locations is now a place for couriers to grab orders. The company adopted to change its layout configuration as revenues increased by 7% this year, mainly from orders placed online and through delivery apps.
Sales increases from off-premise avenues also prompted Schlotzsky's to include more options to ease to-go and pick up facilities as a part of its overall brand refresh last year. The new redesign for its stores now sport a pickup area for takeout and delivery. Since mounting the sort of push for off-premise business that many chains have recently undertaken, Schlotzsky's has seen its sales through those channels jump to 4% of the total store mix in a matter of months.[2]
Interestingly, Panera's CEO once referred to the mass of people waiting to pick up orders as the "mosh pit." But the chain has reduced wait times and human logjams with a mobile ordering app, touch-screen ordering, and the humblest of advancements: A shelf that houses digital orders waiting to be picked up. Corner Bakery has a similar setup for online order pickups.[3]
In the wake of the rising popularity of deliver service platforms, even Wall Street investors are craving for these types of companies. The runup in valuations is reminiscent of meal-kit bubble, some market watchers say. Venture-capital firms have invested $3.5 billion in food and grocery delivery services so far this year, more than triple the amount they invested in all of 2017, according to PitchBook.[4]
[2] Restaurant Business Online