Just how resilient is franchising?
Franchising is a model designed for rapid expansion. Typically, when an industry shows attractive economic and social trend appeal, you will see more franchise activity. But what about during a pandemic, when whole swathes of the economy are challenged?
Which industries continued to experience franchise growth and, conversely, which shrank? How well did they perform, and how much "new" unit activity was there? In a typical year, we see about 300 new brands emerge. What about an atypical year like the one we just experienced? As you consider your next franchise investment opportunity, let's shed some light on these questions.
We've compiled full-year 2020 data and some early 2021 data and can now compare franchising just before and during the pandemic. Clearly, the story is still being written and there are a lot of factors influencing outcomes so far (both positive, such as PPP and other support programs, and negative, such as local government-imposed closures and labor challenges). However, from a multi-unit operator investor perspective, there are some interesting insights to be gleaned. Here are just some we found.
Industry performance analysis
Our research team looked at sector-level system growth trends, continuity rates, and new openings between 2019 and 2020. Overall, three industries stood out and achieved the strongest growth (highest system size growth rate, increased number of new openings, and continuity rates), outperforming other brands despite the pandemic: Decorating & Home Design, Building & Construction, and Retail Food.
Unit growth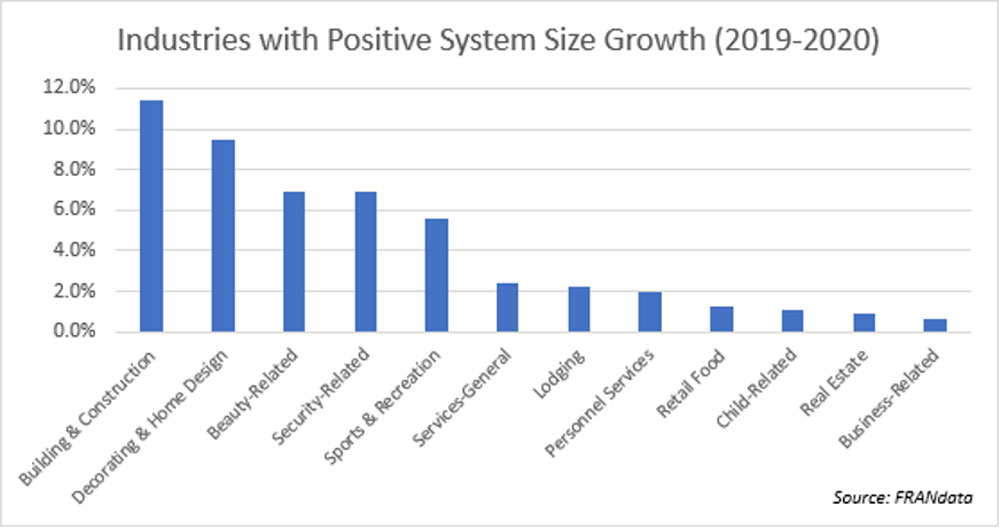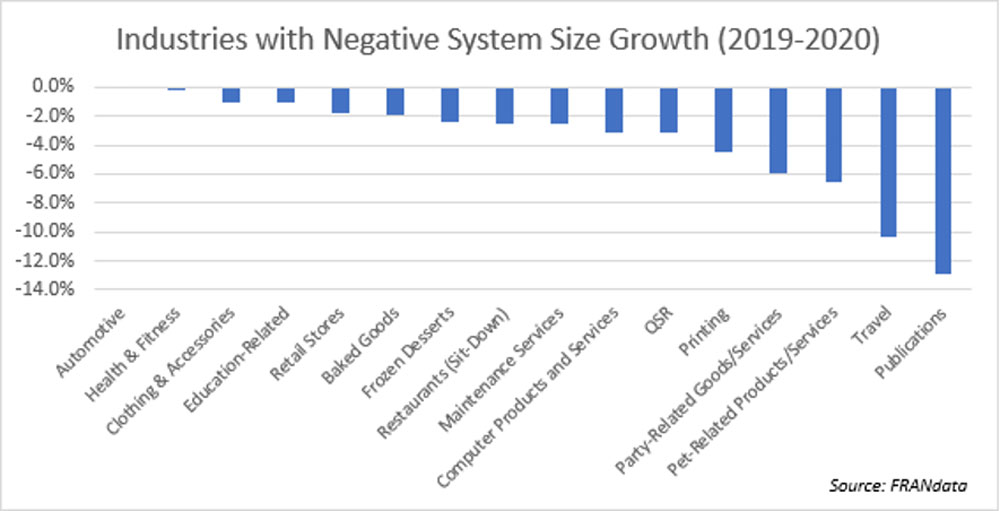 On average, the system size of brands in franchising declined by 1.1% between 2019 and 2020.
Unit Openings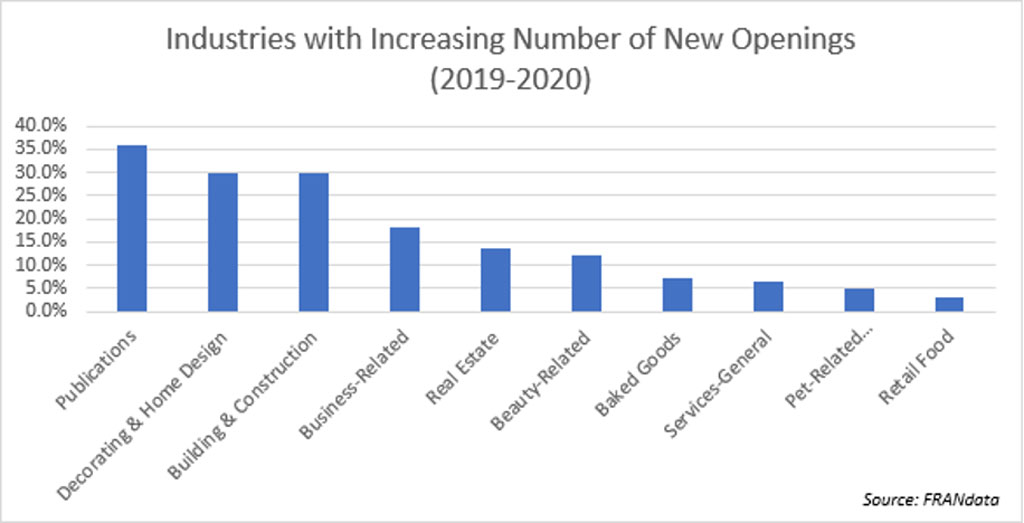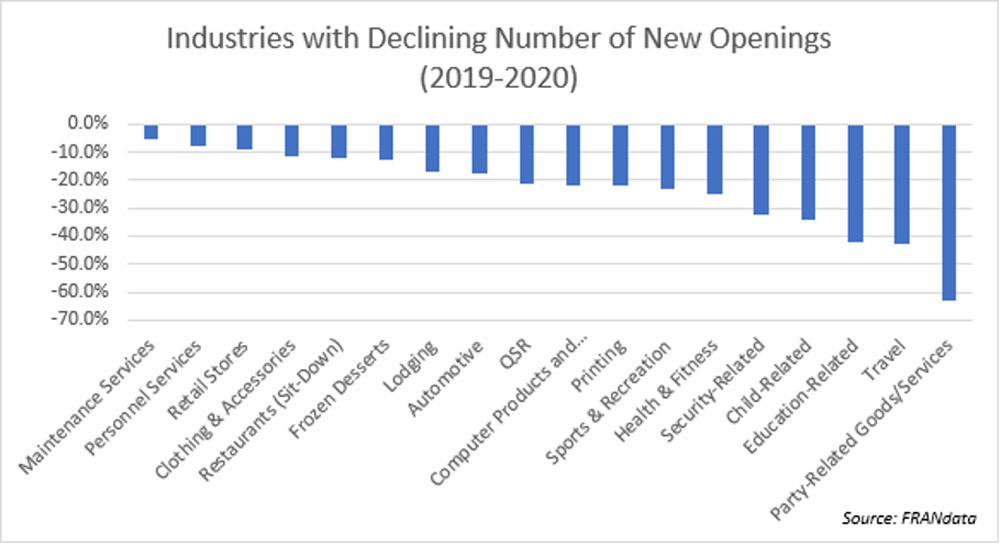 On average, the number of new unit openings across sectors in franchising declined by 9.9% between 2019 and 2020.
Continuity rate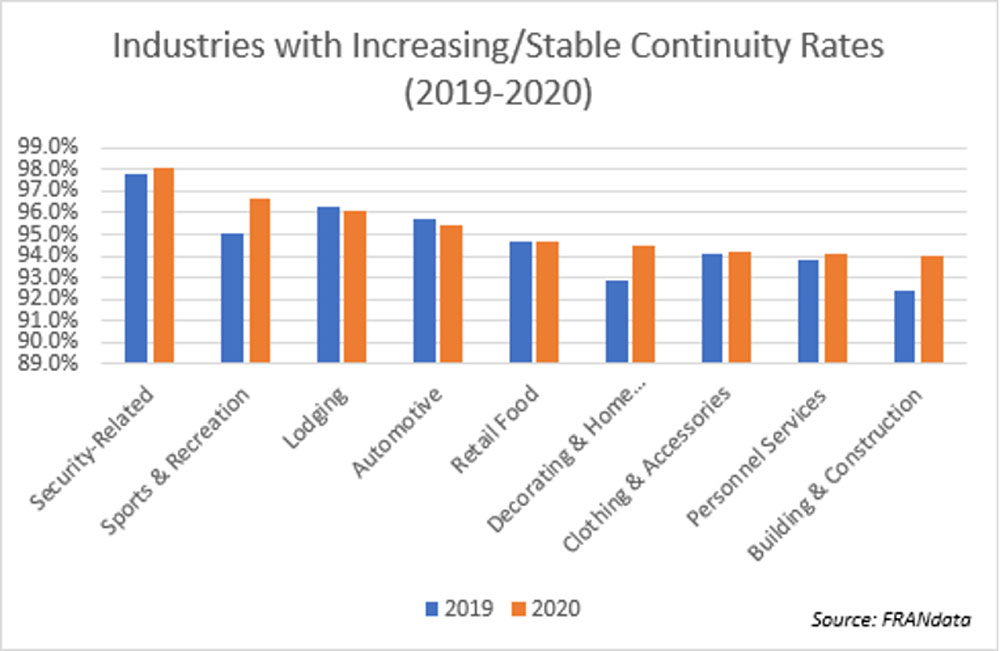 Continuity rates improved or remained stable for only 9 industries between 2019 and 2020.
On average, continuity rates in franchising declined from 94.4% to 92.5% during the same examined period.
Transfer rate
Understandably, average transfer rates across sectors dropped from 4.2% to 3.6% between 2019 and 2020. When economic activity comes to a halt in many industries, buying and selling of franchised units should be expected to decline. Under the circumstances, the level of decline seems relatively modest.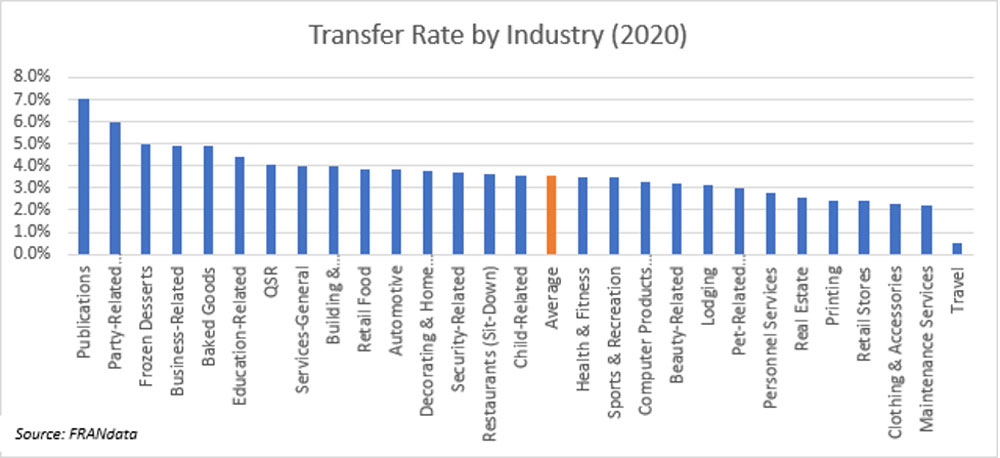 New brands analysis
Surprisingly, a lot of phoenixes rose from the ashes in 2020. Is it blind optimism or a signal of post-Covid opportunity? Our database shows that approximately 409 brands began offering franchising after the pandemic started. The 10 sectors listed below are the fastest-growing sectors that have the highest number of new brands entering their space.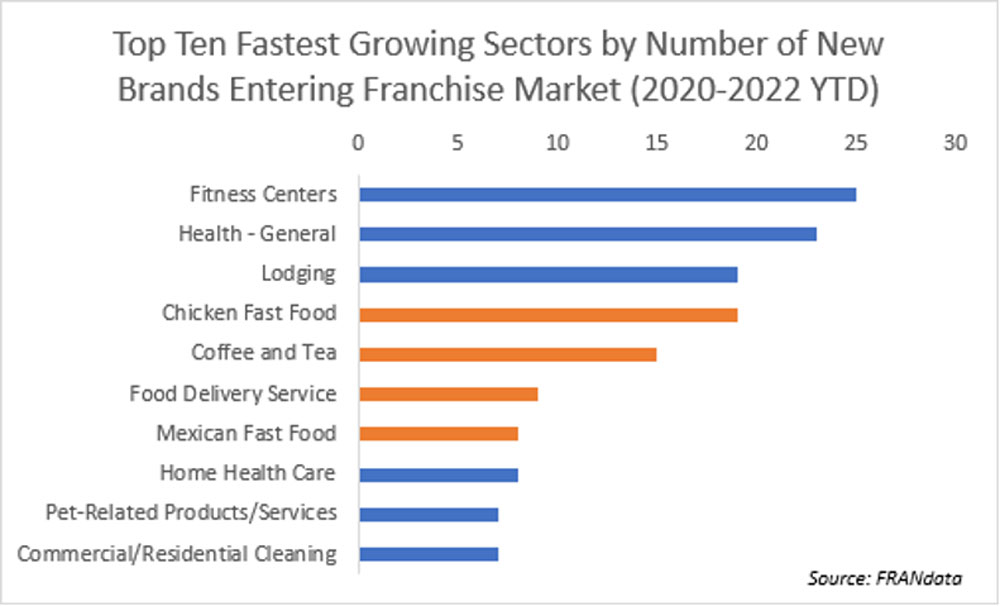 Fitness Centers. This category is still among the top fastest-growing segments, despite the pandemic. However, we are seeing more mobile fitness concepts or brands offering virtual, personal, and small-group training sessions, adapting to changing consumer behavior during Covid.
Health-General. There are a mounting number of new concepts offering alternative medicine and health, including vitamin IV infusion and rejuvenation, mental and behavioral health services, occupational therapy services, and more.
Food. Popularity in the food industry was found in the chicken fast food, coffee and tea shops, and Mexican fast food spaces.
Food Delivery Service. This sector also is on the rise, mirroring the booming demand from customers ordering food delivery off-premises.
Commercial/Residential Cleaning. An increasing number of new commercial/residential cleaning concepts focus on disinfecting and sanitation services as their major service offerings.
Pet-Related Products/Services. Franchises that offer pet care services also experienced significant growth as an increasing number of the population became new pet owners seeking companionship when stay-at-home orders were in effect. After people began returning to work, the need for pet sitting and other care amplified as well.
Conclusions
Clearly, the franchise business model is resilient. 2019 was a big year in franchising. During the first full year of the pandemic, franchise system expansion on average was only down less than 10%. Lots of sectors had healthy growth. And new brand growth was at a record level.
New brands give both a positive signal of opportunity at the sector level and insights into how new offerings, designed to meet post-pandemic consumer needs, will look.
Is the franchise business model surviving? Indeed. Is it thriving? It's too early to judge, but certainly a positive preliminary pattern is emerging. As you look to new investment opportunities, there are some very good signals in this data.
This article originally appeared on Franchising.com, view it here.