The SBA Directory helps lenders check if a brand CAN obtain SBA financing, while the Franchise Registry is utilized by lenders to see if brands SHOULD obtain financing.
What is the difference between the SBA Directory and the Franchise Registry?
We use the umbrella term "lenders" but, in reality, a loan does not pass through just one set of hands – the potential borrower needs to be identified and developed into a loan opportunity that needs to be analyzed, verified and approved/denied by different people in a lending organization.  A portfolio team needs to determine if another loan to the same franchise system can be made again.
The Franchise Registry's sole purpose is to bridge the gap between a franchise system and information a bank needs to put a loan on the books. The SBA's Franchise Directory is simply a list designed to answer one question: Is a franchise system eligible? The wide breadth of information and services that the Franchise Registry offers to lenders means that more lenders from all tiers and departments use the Franchise Registry when it comes to franchise lending.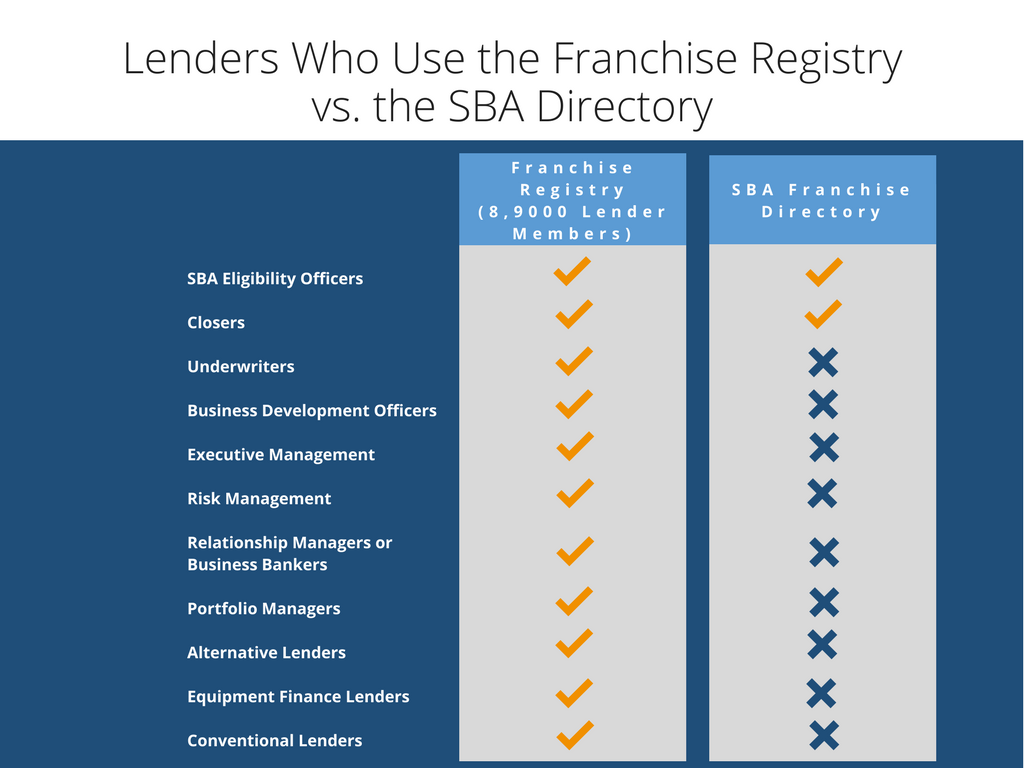 The lenders who use the Franchise Registry are those who have a vested interest in franchise lending.
Currently, more than 9,000 small business lenders across the country use the Franchise Registry to find business development and credit risk information about franchise brands and connect with some 2,500 franchise clients to make better and faster loan decisions.
They approve or deny the loans to your franchisees, and they decide what loan terms to offer, and they actively seek out partnerships with high performing brands.  Franchise Registry lenders leverage the service to find new brands to keep an eye on, access documents or credit scores when underwriting a loan, get educated on franchising, and find brand contacts when they have a question that needs answering.  In short, they rely on the Franchise Registry as an integral part of their franchise lending process.