It is not just the restaurant space that is abuzz with M&A activity, senior care industry is also seeing high acquisition trends in recent years. In 2017, there were 115 M&A transactions involving hospitals and health systems, marking the highest level of activity in at least 17 years.[1] So far, there have been 84 home health, hospice and personal care deals in 2018, and the year is well on pace to see well above 100 transactions.[2]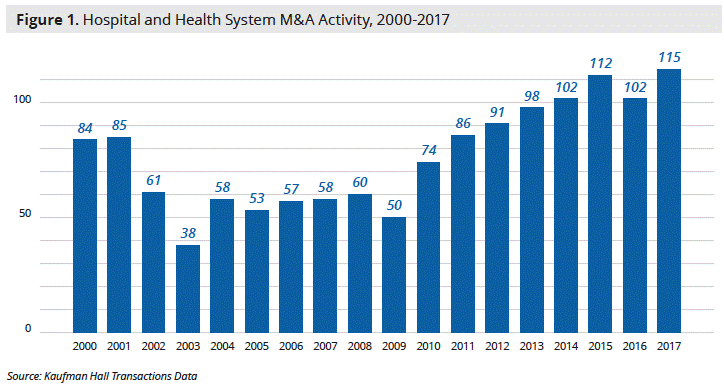 The rise in acquisitions is fueled by a growing need for consolidation in this industry vertical. An increasing number of large corporations are looking to build a stronger brand presence and diversify their care continuum.
Private equity investors with existing home healthcare companies in their portfolios are taking the M&A route to diversify their offerings and create a platform that is more akin to residential services companies like the Dwyer Group. This is well exemplified by the Riverside Company's acquisition of CarePatrol via ComForCare. A case where the PE owner brought two complementary, non-competitive businesses together. Synergy Homecare was also acquired this year by NexPhase, adding to its healthcare portfolio, which includes healthcare companies such as pain management company, Clearway Pain Solutions, and revenue cycle management provider, Meduit. Similar trend can also be seen when Caring.com, an internet-based online resource and referral service about care options, was acquired by General Atlantic and Silver Lake Partners, which already owned A Place for Mom, a Seattle-based senior care referral service provider.[3]
M&A activity is not limited to franchisors and companies along. This has also trickled down into the franchisee level conversions, where geographical saturations in certain high value markets is resulting in franchisors taking the M&A route to grow their presence. BrightStar Care for example acquired Iowa-based HomeChoice Senior Care as a conversion into its system, adding Cedar Rapids, Iowa City and Des Moines to its growing market presence. At the same time, FirstLight Home Care acquired Hearthside Home Care as its first of many independent home care provider conversions. U.S. brands also in high demand with overseas investors. Take the case of Home Instead's Irish operations. In 2017, The owners of Home Instead Senior Care, Michael Kearney and Ed Murphy, have sold more than half the business to outside investors.[4] Proceeds from such investments are being used to fuel further growth in their respective markets.
With many buyers for franchisee and franchisors alike making inroads in the home healthcare industry, the result has been favorable to sellers. The median earnings before interest, taxes, depreciation and amortization (EBITDA) multiple for U.S. healthcare targets rose almost 3x from from 2015 to 2017, reaching the level of 13.8x.[5] High multiples for franchises is resulting in the creation of profitable exits and a sellers' market for franchisees. Franchisees are not shying away from taking advantage of this trend. For example, earlier this year, South Carolina-based health care real estate investment firm InvestSouth acquired Interim HealthCare's franchisee in Greenville[6]. The same time, Home Instead's Hightown NJ operations were acquired by a private investor.[7] Home Helpers and Right at Home also saw similar transactions earlier in the year.[8]
With the number of Americans aged 65 and older going from 35 million in 2000 to 49.2 million in 2016, according to the U.S. Census Bureau, subsectors such as home health have momentum. Added to that excessive competition for targets means that companies and investors are increasingly turning to targeted market services provided by companies like FRANdata to find more and more high-quality targets.
[5] West Monroe Signature Research