The franchise model in the U.S. is thriving. Even more so, there is an increasing number of franchisors that are focusing on the rising demand for American goods and services across the Pacific in Japan. An independent study by the World Franchise Council revealed that Japan is among the largest Asian franchise markets, with over 270,000 franchised units and close to 1,300 active franchise concepts.
Based on available data, the total number of franchise chains increased during fiscal year 2015 by 8 chains, while the number of chain stores and outlets was up 0.6% or 1,868 stores from a year earlier. Most recent information shows that the total turnover among franchises in Japan amounted to ¥24.6 trillion, showing an increase of 1.9% from FY2015, the sixth consecutive year of growth after reversing course in FY2010. The growth of franchising in the country has made Japan the second largest franchise economy in the world.[1]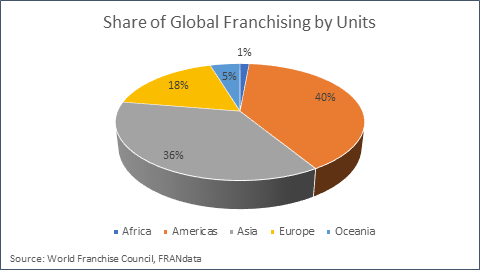 American brands are getting increasingly popular among Japanese consumers. Take McDonald's for example. Until last year, McDonald's was planning to sell stakes in its Japanese venture, but given the increasing momentum experienced by American franchisors in Japan, the company has now shelved its plans to sell a stake in its Japan unit.[2] Moreover, a QSR concept like Auntie Anne's is also growing its presence in the country after having entered Japan in 2010.[3]
And the interest is not just limited to food franchises. There is equal, if not more, interest in the non-food segment with sectors like education services, home healthcare, fitness studios, gyms, laundry, and cleaning services getting counted among fast growing franchise verticals. Take the fitness sector for example. Orangetheory Fitness is gearing up for a rapid expansion in the region, after having signed a master franchise agreement to open 70 studios in the next 10 years.
In the service sector, a wide variety of franchise concepts have developed against the background of diversification of consumer needs in recent years, particularly in the field of senior care-related businesses, reflecting Japan's demographic changes. Elder-care workers are in high demand in Japan, which has the highest percentage of elderly citizens of any country in the world. Large senior care services providers like Home Instead[4] and Right at Home[5] have already made strides in Japan to take advantage of this change in demographic concentrations.
Bottom-line: the Japanese franchise story is just beginning to unfold for the American franchisor. And given the increase in the activity for that market among U.S. brands, identifying the right business partner in Japan requires time and effort. Therefore, thorough market research and a long-term commitment are necessary for U.S. companies that are considering launching a franchise-based business in Japan.