At FRANdata we consider our team of research and data analysts the backbone of the company. Our passion for all things franchising starts and ends with our brain trust and that comprises of talented people who spend countless hours gathering, analyzing and deciphering metrics and insights so that our clients can make decisions that resonate. The "Expert Perspective" series aims to pull back the curtain and introduces you to our team of researchers who eat, breath and talk franchising.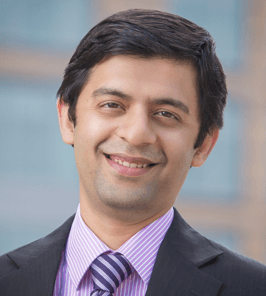 Joining FRANdata in 2011, Ritwik has over a decade long history of analyzing the mechanics of the franchise business model. As the Senior Research Analyst, he has lent his capabilities, leading several engagements with some of the topmost franchises in the country. He has led a multitude of market research & financial analysis driven projects covering in-depth industry analysis and market sizing, business best practice studies, private equity focused due diligence, go-to market strategies, etc. His creativity has enabled FRANdata to branch out into new verticals and develop new information products and services. Ritwik is also a regular contributor to the franchise industry's thought leadership, having been published and cited across multiple industry journals and magazines.
Before landing at FRANdata, Ritwik consulted with global Fortune 500 companies on managing their pricing, marketing and corporate strategies for the U.S. and Asia-Pacific regions. He was a Senior Business Journalist for major newspaper publications carrying out financial and strategic analysis for the IT as well as small business sectors. He is a published author of over 500 articles and news stories in India, the United Kingdom and the United States.
He holds dual Master's degrees – an MBA degree from the George Washington University, Washington D.C., and an MA in International Journalism from the Birmingham City University, UK, in addition to a B.Com degree from the University of Mumbai in India. Ritwik has also previous work experience in India and the UK.
What do you love most about franchising?
Almost any time you go into a store that you can find anywhere else in the country, you're in a franchise. Franchising offers budding entrepreneurs who don't know how to start your own business an opportunity to own their own business; the VetFRAN initiative is another great example of why I like being the franchise world; allowing veterans to apply their skillset and training into a new passion. And finally, it's all about the community, where franchise owners serve the community they operate with most becoming strong pillars of the local community and supporting it in good times and bad times. Also, franchising has created some great success stories in the country in terms of small business owners.
What is one thing you find interesting about franchising or your clients?
Endurance of the business model. It is fascinating how time and time over, the franchise business model has proven its resilience across the various economic ups and downs. No one expected living through a global pandemic, and yet here we are after a year marked by disruptions and unprecedented challenges, our industry is now leading the way in terms of those ones that are poised to bounce back to pre-pandemic levels by year's end. To me, many of our clients' quick adaptability and scalability through the pandemic to keep the small business flag flying high was simply amazing!
What do you enjoy doing outside of work?
Traveling in search of good food joints or working on my poems both in English as well as in my native language.
Check out our other series, FRANalyst Fridays.